FOOTLIGHT NOTES
(8th year in cyberspace -
335 + pages and growing)
Theatre -Variety
Music Hall -Vaudeville
Musical Comedy
Revue - Circus
Ballet - Opera
and other popular entertainment
portraits - biographies
reviews
1850s-1920s
---
Jimmy Godden (1879–1956),
English actor and singer
in his stage debut role as
King Sollum in the pantomime,
Jack Horner,
Theatre Royal, Plymouth,
Christmas, 1911

(photo: unknown, probably Plymouth, 1911)
Footlight Notes no. 380

contents
for the week ending
1 January 2005

Home - Ernest d'Auban and Rita Barrington as the Spirits of Malice in the pantomime The Forty Thieves, Theatre Royal, Drury Lane, London, 26 December 1898

Celebrity of the Week - Bert Errol (1883-1949), English music hall female impersonator

Postcard of the week - Sybil Arundale (1882-1965), English actress and singer, as Dick Whittington, Theatre Royal, Birmingham, Christmas 1908

Cigarette Card of the week - Violet Jewell (fl. late 19th/early 20th Century), American actress

Minor Player / Variety Act of the week - J. Reichen and his performing dogs at the Empire, Leicester Square, London, December 1902

Press Clippings of the week - This feature to return in the New Year

Footlight Notes Weblog
---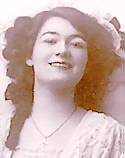 Ella Retford (1886-1962)
English music hall comedienne
and
pantomime principal girl
(photo: G. Langfier, Glasgow, circa 1907)

Sound file (RealAudio, 349kb) - Ella Retford here sings a popular ditty called 'Over a Cup of Tea,' a song also featured on the music hall stage by Ruby Verdi. Miss Retford's version was recorded for Sterling (cylinder no.443) in London about April 1906. This recording is featured here by kind permission of Norman Bruderhofer whose Web site, The Cylinder Archive, includes information on cylinders, as well as an interesting archive of such recordings made between about 1900 and 1924.
Phyllis Dare (1890-1975)
English musical comedy actress and singer
(photo: Foulsham & Banfield, circa 1913)

Sound file (RealAudio, 161kb) - An extract of Phyllis Dare's recording (HMV C-634, Hayes, Middlesex, 30 December 1915) of 'I Come from Holland' by Paul Rubens, who accompanies on celeste, from the musical play Tina that opened at the Adelphi, London, on 2 November 1915 and ran for 278 performances.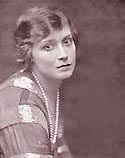 Grace La Rue (1882-1956)
American vocalist and actress
(photo: E.O. Hoppé, London, 1913/14)

Sound file (RealAudio, 422kb) - Grace La Rue singing the extraordinary 'A Tango Dream,' with words and music by Elsa Maxwell. Recorded 6 February 1914 for The Gramophone Company Ltd, Hayes, Middlesex, for its His Master's Voice label (catalogue no.03373, issued April 1914). Miss La Rue featured this song as an interpolated number in the musical, The Girl Who Didn't at the Lyric Theatre, London, which opened for a run of sixty-eight performances on 18 December 1913.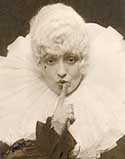 Lee White (1886-1927)
American vocalist and actress
(photo: Wrather & Buys, London, 1915)

Sound file (RealAudio, 165kb) - An extract of Lee White's recording (Columbia F-1021, London, 5 November 1919) of the delightfully silly song 'The Wedding in Dollyland,' featured by her in the 'song show' Back Again that opened at the Ambassadors Theatre, London, on 2 September 1919 and ran for 129 performances. The words are as follows:

Listen, children, in the follyland
Most bewild'ring known as Dollyland
The Glad-Eye doll, what do you think she did?
Went and gave the 'glad' to the Thumbs-Up Kid.
Master Thumbs was full of impudence.
Didn't stop to woo:
He put his thumbs up twice times
Then put the banns up, too.

There's to be a wedding down in Dollyland,
In Dollyland;
And the dolls will all be dolled up mighty grand,
In Dollyland.
When the little Glad-Eye doll
Comes to take a life control
Of the Thumbs-Up dolly,
Oh, golly!
Dollyland will be a jolly land.
Four wooden horses to church to carry them there;
A teddy bear growling a prayer will safely marry them.
Oh! You must be there
To see the Thumbs-Up baby with the thumbs-up smile
Lead that Glad-Eye dolly up the aisle
For the Thumbs-Up wedding down in Dollyland.
---

The Footlight Notes Postcard Project

The Era CD ROM Project

Other sites of interest

About Footlight Notes
---

Footlight Notes Archive A - H (updated 22 April 2004)

Footlight Notes Archive I - P (updated 18 May 2003)

Footlight Notes Archive Q - Z (updated 27 April 2003)

Footlight Notes Press Clippings Archive, 2002

Footlight Notes Press Clippings Archive, 2003
---

Please use the above image
for your link to Footlight Notes
© John Culme, 2005